Memorabilia Collection: Series III - VIII

SERIES III. METALWARE

Series III (Box 1), containing metalware, is one of the smallest of the memorabilia collection. Three of the more interesting pieces in this grouping have an impressive provenance attributed to them, although their definite histories have never been proven. A pewter plate (III.2) with an unknown coat of arms at the center has been identified by the donor as a part of the original Lafayette family pewter. Also, a pair of silver spoons (III.3.a-b) supposedly holding the monogram of the Lafayette family are located in this series as well.
SERIES IV. TEXTILES

The memorabilia of Series IV (Box 1-5) includes a diverse collection of 19th-century textiles. Fabric pieces are arranged into five categories: clothing, banners, drapery, doilies, and blankets. The most historically valuable textile of this series is the embroidered waistcoat worn by Lafayette at the time of his visit to the United States during 1824-25 (IV.1). Other textile pieces dating from the 1824-25 tour have more indirect associations with the Marquis de Lafayette, such as the banners carried in parades in his honor (IV.3,4), fragments of a gown worn at a Lafayette ball (IV.2), commemorative doilies labeling Lafayette as "The Nation's Guest" (IV.7,8), and a woven blanket (IV.9) under which Lafayette was said to have slept somewhere near York, Pennsylvania. Some of the more unusual textiles in this series include fragments of drapery from the Paris room where Lafayette died in 1834 (IV.5,6.a-b).
SERIES V. PERSONAL ACCESSORIES
Personal accessories of Series V (Box 1-8, oversize shelf D/3) include objects purportedly owned by Lafayette as well as pieces manufactured in his honor, primarily during the 1824-25 Farewell Tour.
Series V is organized into four major categories: jewelry, grooming devices, smoking and snuff accessories, and miscellaneous.
The jewelry of Series V includes rings, a locket, a watch, and pins. All of these pieces date from the 19th century. In some instances, the jewelry carries a portrait of Lafayette. Other pieces are associated with Lafayette in several ways. A pocket watch (V.4) was presented to a relative of the donor by Lafayette during his 1824-25 tour of America. A ring (V.1) supposedly containing a lock of Lafayette's hair is located here as well.
Grooming devices include a clothing brush with the bristles dyed to spell "Lafayette - 1825" (V.7) and pocket mirrors holding a bust portrait of Lafayette after Scheffer (V.8,9).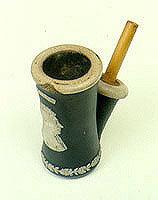 Smoking and snuff accessories include a collection of 19th-century snuff boxes in papier mache, ebony, and wood with portraits or scenes from Lafayette's life displayed on the lids (V.11-15). A pipe in gray ceramic with a portrait of Lafayette in relief on the bowl is located in this grouping as well (V.10).
The miscellaneous category of Series V contains many personal accessories in a variety of forms. Objects include hair combs (V.21), a buckle (V.18), buttons (V.19-20), a scarf (V.21), gloves (V.22-24), fans (V.25-26), a brief case (V.27), a cane (V.28), and umbrellas (V.29-30). While some of these items were worn or carried at Lafayette-related events during the 19th-century, most were manufactured specifically as commemorative pieces for the 1824-25 tour of the United States.
Series VI (Box 1-14) contains a fine collection of 18th and 19th-century medals and ribbons. Over 140 medals and medallions are housed in this collection (Box 1-13), and were struck in France and the United States.
Every medal in the collection is somehow related to Lafayette, with most medals carrying a portrait of Lafayette in relief on the obverse side. In some instances, the medals refer to specific historical events in which Lafayette participated, but do not hold a Lafayette portrait. More than 60 different medals are included as well as several copies and variations of specific medals.
The earliest medal appears to have been issued in 1789, and the most recent medals date from the present day. Approximately 30 medals date prior to 1800 and were issued in commemoration of Lafayette's participation in the French Revolution. Approximately 50 medals date after 1800 and up to 1834. These medals refer to Lafayette's 1824-25 tour of America, his last political involvements in France ca. 1830, and his death in 1834.
Another fifty-plus medals date from the latter part of the 19th century onward. For the most part, these medals commemorate the anniversaries of Lafayette's birth and death as well as events he was associated with throughout his lifetime. The medals are arranged chronologically and are assigned individual numbers which reflect their date, type, and the number of copies in the collection (i.e., 1789.1.a). The first number indicates the year the medal was first struck, the second number refers to the type of medal, and the letters which follow indicate if the medal exists in copy within the collection.
The ribbons of Series VI (Box 14) represent approximately 25 varieties of commemorative and mourning badges relating to the Marquis de Lafayette. These ribbons, commonly pinned upon clothing in the 19th century, are usually engravings on silk and display a portrait of Lafayette with printed text. Most of the ribbons in this collection date from 1824-25 and were worn during parades honoring Lafayette's final visit to America. Another large group of the ribbons date from 1834 and mark the death of Lafayette. Ribbons are arranged chronologically within this series.

| | |
| --- | --- |
| | Series VII (Box 1-2) contains Lafayette iconography in the form of art works framed and as statuettes. The framed pieces range from a portrait of Lafayette on a ceramic tile (VII.1) to a painted family crest of Lafayette (VII.2). Most framed pieces display a representation of Lafayette in portrait. The statuettes include three painted porcelain pieces showing Lafayette in the military dress of the Paris National Guard (VII.7-8,11). Two statuettes are in bronze, one in full-figure entitled "Lafayette at Yorktown" (VII.9) and one bust portrait cast in London in 1831 (VII.10). |
SERIES VIII. WEAPONS

The weapons of Series VIII (Box 1) include four swords and one firearm. Two of the swords were personal arms of Lafayette. The first, a three-edged rapier (VIII.1), was surrendered by Lafayette after his capture in Austria in 1792. The second, a presentation sword with case (VIII.2), was a gift to Lafayette as Commanding General of the Paris National Guard from his fellow officers. The 18th-century musket (VIII.5) located with this series has been suggested to be one of the Charleville firearms brought by Lafayette to the Americans in 1777.